Since the 1950s, plastic has been perhaps the most important building block for what we consider modern life. But the explosive growth in plastic consumption has not only given the entire globe access to tens of thousands of amazing goods. Plastic has also created one of the biggest waste problems of our time.
The problem recurs across most of the globe, where plastic either ends up as waste on land or in the ocean, which currently receives 15 tons of plastic every single minute.
It is therefore not unlikely that one day there will be more plastic than fish in the oceans. It is estimated that the consumption of plastic will quadruple in the next 30 years! The challenge is therefore to preserve the wonder material plastic, while avoiding the waste problems.
This is the idea on which the company Plastix A/S is built. The company has started almost symbolically, where the problem has become most visible in recent years, with the plastic ending up in the sea. Instead of ending up in our ocean and ocean environment, or in landfills around the globe, used used fishing nets, trawls and ropes in Lemvig become a new quality plastic raw material, which the company calls Grøn Plast.
It not only solves waste problems but also helps solve climate challenges as it is very CO2-intensive to produce brand new plastic. As a rule of thumb, you need two liters of crude oil and a lot of water and energy to produce one kilogram of plastic.
Compared to newly produced plastic, saves Grøn Plast from Plastix the atmosphere for at least 82% CO2 discharges.
Plastix modtager de brugte net og reb primært fra den maritime industri. Virksomheden sammenarbejder med alle aktører i værdikæden: Lokale og nationale myndigheder, fiskerne, havnene, virksomheder og
NGO'ere fra alle egne af verden.
Plastix' unikke mekaniske genbrugsteknologi har gjort fiskenet og reb til en del af et cirkulært loop, hvor materialet altid forbliver i værdikæden og aldrig bliver til affald.
I Danmark har vi tradition for at indsamle affaldsplast, og de fleste af os tror, at vi ved at sortere plastaffaldet for sig, har bidraget til en løsning. Men det er kun halvt rigtigt: Desværre bliver kun en lille andel genanvendt. Faktisk er plast et cirkulært materiale – man kan genanvende langt de fleste plasttyper.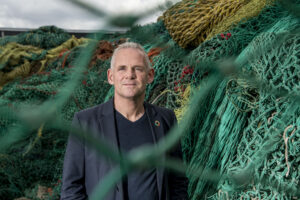 "Det er helt afgørende at vi forholder os til problemstillingerne med plast allerede i idé- og designfasen af produkter. Det handler særligt om, at produkterne skal designes, så de kan adskilles og genanvendes, og at de produceres med så højt indhold af genanvendt plast som muligt. Det betyder, at vi skal til at tage stilling til, hvordan vi håndterer produktets andet, tredje eller fjerde liv tidligt i processen", udtaler Hans Axel Kristensen, adm. direktør, Plastix.
Plastix A/S er medlem af Klimatorium.