The National Climate Confrence 2022
Youth climate Conference 2022
Children's Climate Meeting 2022
Klimatorium is Denmark's international climate center
Forum for Climate Adaptation Projects and Climate mitigation. The mission is to develop and disseminate new solutions to challenges within the areas: Coastal Climate Challenges, Green Energy, Circular Economy, Water and Environment - through collaboration.
Job posting
- Innovative and analytical engineer
Creative and sharp communication consultant
Read more about the job postings HERE - come and become part of Denmark's International Climate Center!
Exhibition "Climate without borders"
Åben alle dage i tidsrummet kl. 10.00-15.00
Free entry!
Enkelte dage vil der dog være lukket pga. arrangagementer. Lukkedage oplyses her.
Lukket d. 17. , d. 19. og d. 24/5
Membership - Business & Private
Gain more knowledge and better understanding of the changing world we live in by becoming a MEMBER of Climatorium.
You and your company become part of projects & solutions.
climate conference - "the earth in balance"
The people of the world use the earth's resources faster than they can be recreated! Global Footprint Network reports that in 2021, Earth Overshoot Day fell on July 29th.
Therefore, this year's Climate conference focuses on the necessary change, as well as how we can thereby contribute to creating a better globe.
The focus is on showing approaches and concrete examples that can inspire and show paths - this is needed in Denmark and globally!
After a joint welcome, the program for the day is divided into four subject tracks, where the main issues of the conference are dived into.
PROJECTS - BE A PART OF THE SOLUTION
Knowledge and cooperation. Through collaboration between private and public companies, knowledge institutions and civil society, Climatorium develops new solutions to current and future challenges.
We need YOU and YOUR COMPANY to think, feed and nurture the climate projects and products that will be used and disseminated locally, regionally, nationally and internationally in the future!
In Climatorium, your company becomes part of a network and a capacity where climate solutions are implemented!
Action is needed - climate cooperation is the answer.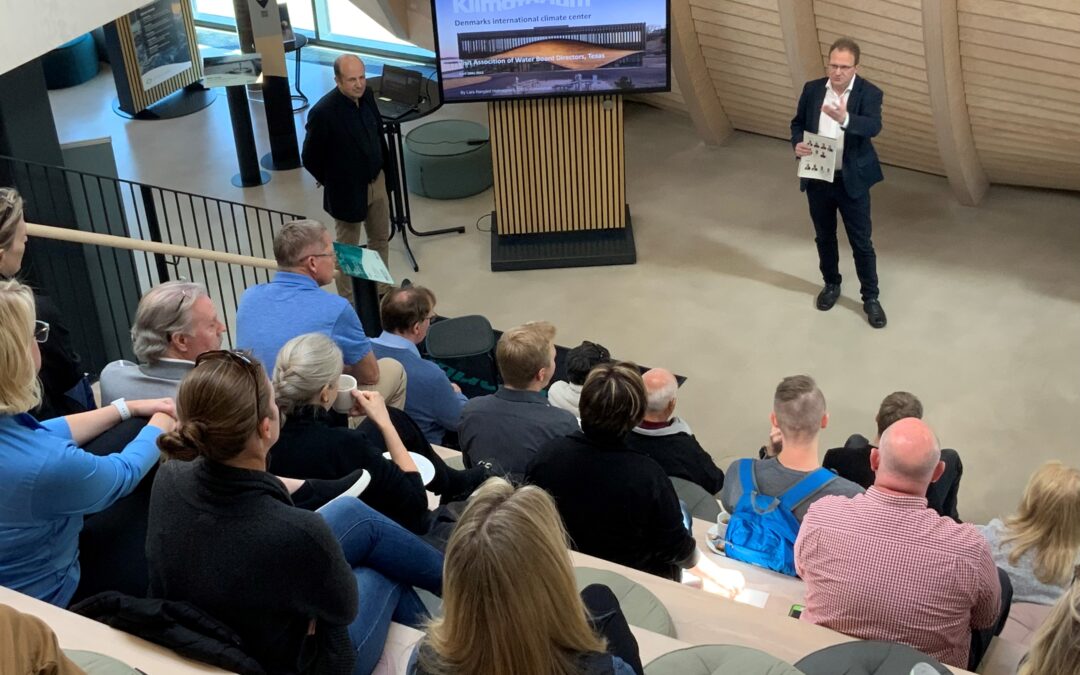 20 directors and employees from water supplies in the American state, Texas, today visited Klimatorium - Denmark's international climate center ....